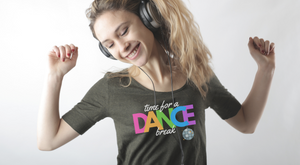 dance
skate
celebrate
80s
Disco Ball Designs 🎉 Celebrations Every Day!
Here at Disco Ball Designs, we'll help turn everyday activities into celebrations that bring you joy. Our mission is to bring a whole lot of FUN, a little bit of humor, and just a touch of nostalgia to your adulting through clothing and accessories that remind you of the things you love (even when you're not doing them).
You'll find exciting items in our store that celebrate YOU through dance & fitness, roller skating, 80s music & movies, birthdays, and more—just for laughs.
Take a look at our product categories below, or keep scrolling to see our featured Top Products. All are designed to help you Dance. Skate. Celebrate. And remember the 80s. Enjoy!

Gifts 🎁 Your Friends Will Love
Treat a friend or treat yourself! Disco Ball Designs make great gifts that will make them say, 'This is so ME! It's perfect!'
Your favorite dancer or fitness instructor will get a kick out of our Social Dis-DANCING t-shirt. Got a Mom in your life who's dusted off her old skates and started rolling around the park? Get her the Cool Mom Roller Skating Tote Bag. She'll love 'em! And anybody who loves rock-n-roll will appreciate our Girls Rock the 80s shirt as they blast Joan Jett on the radio. Totally cool! 
Keep scrolling to see our current featured products.
Help a Dance Instructor or Musician 💖 Shop our Tees for Tips Collection
Yes. We love our Dance Instructors and Music Makers even more than we love 80s music! And that's saying something!
We've worked with some of these fine folks to create custom class shirts and music merch for their fans--that's YOU! For every one of those special items that is purchased, your instructor or melody maker will get a tip in their tip jar, as a thank you for keeping us moving through the pandemic and beyond.
Know someone who would like to create a custom design? You can email us: jen@discoballdesigns.com, and we'll will get back to you ASAP.
We love to rock & roll, but we love the ones who help us Keep On Dancing even more!
Fun, Free Activities
New ways to Dance.Skate.Celebrate.80s. Plus promotions & discounts. Sign up now - Don't miss the party!